Sound
We carry a variety of equipment depending on the needs of any event. Events as large as 5000 people are no problem for our massive sound systems available. In total, we have over 25 speaker cabinets of various brands to suit every need.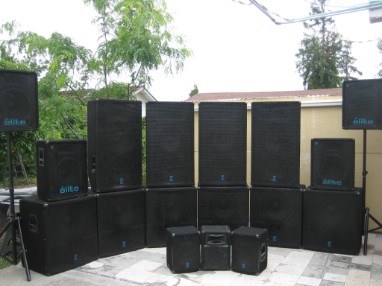 Yorkville: Our Yorkville system is our most diverse system; we can split and combine speakers to accommodate small to large events. Using multiples of our speakers is ideal for large to massive venues. We have two pairs of dual 15"speaker two way towers. One set puts out 1000 watts and the second pair puts out 1600 watts of power each. The 18"subs below add 800 watts of power each. We have six of these subs! In some cases where more power is needed, we have an additional two pairs of single 15" two way speakers that put out 400 watts each. Finally, there are three 10" speakers that can be used, but these are normally used as monitors since they only put out 160 watts each. Put all these speakers together and you have well over 10,000 watts of power!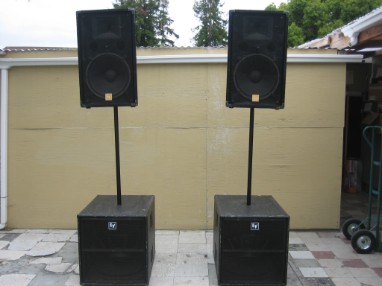 Electro Voice (EV); Our EV system is a little smaller than the Yorkville system, but still packs a punch! On top is the EV T152+, a 15' speaker rated at 500 watts each. These are very loud and very clean sounding. The bass is covered by the 18" SB180 that puts out earth rattling vibrations at 600 watts each. In total, this system is well over 2000 watts of power! These speakers deliver a very clean sound to medium and large rooms.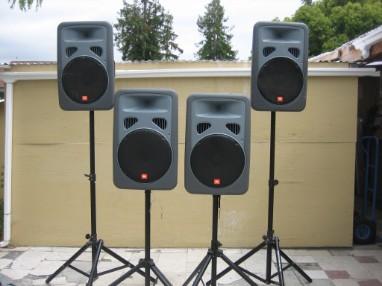 JBL: We have four self powered monitors for numerous applications. They are a very diverse speaker with many features. The JBL Eon has a built in amplifier within the speaker, making them easy to install in any situation. They can be wedge floor speakers, mounted on a stand, or put almost anywhere! These JBL speakers are great for small to medium sized rooms, and they can be added to any larger sound system, such as a large hall or as satellite speakers and stage/DJ monitors.