Lighting
We have over 100 lights and over 20 different styles at our disposal! Our lighting department is state of the art and consists of mainly intelligent lighting. This style of light is usually found in clubs, raves and concerts. Intelligent lights move together, to the beat of the music, sometimes react to each other and can be controlled with a DMX controller! Not all events require these lights and other light fixtures are also available.
Intelligent lighting:
ScanTron: One of our newest intelligent light, these four lights are action packed, featuring over 14 shapes and 11 colors. These lights move to the beat of the music in unison and at the same time strobe, shake, and change colors and shapes! They also double as color changers/ spotlights!
Swivel Beam II: The Swivel Beam II is one of our favorite intelligent lights. This light also uses a barrel mirror to sweep colors and shapes across the room. This light strobes, shakes, changes direction, color and shape in the blink of an eye! An energetic fixture to view!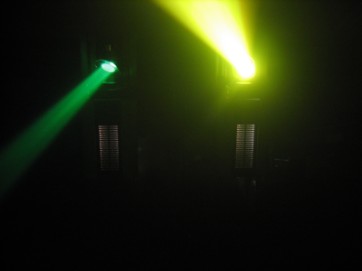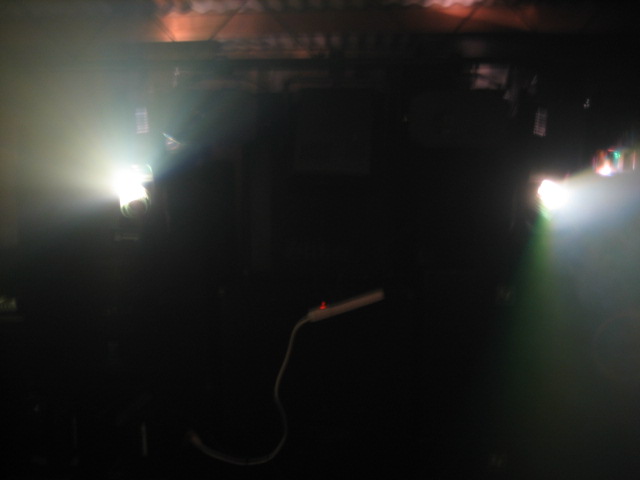 High-Tech Lighting: If you're not looking for the concert/club experience, we do have some fun high-tech lighting options. Many of our high-tech lighting is DMX controllable and linkable and great for most traditional types of events such as birthdays, weddings and other fun events!
Strobes: Outside of the Martin Rush strobes, we have many other styles available. The S-100 is a 45 watt bright strobe light. We can link four together and make them chase around the room. A dizzying effect! We also have a mega strobe that has a flash and dimmer control. This strobe can be as bright as 800 watts!
Lasers: We have a variety of laser effects for special events. The Laser Widow is a red laser that displays 16 different patterns and also can be linked together to produce an awesome laser show. The Laser Launcher produces 8 vertical laser beams that chase back and forth to the beat of the music. Combining the Laser Widows and the Laser Launcher makes a really impressive laser show! The Stinger-1 is our green laser that is utterly amazing. This laser is intended for aerial displays and features over 30 patterns that fly over the room! For brighter effects, the RG-22 that is a super bright red and green laser with a total output of 120mw! Our newest laser, the RGY 150 is a red, green and yellow aerial laser and 150mw. A must at any party!
Acid Beam: The acid beam is used to give a party that retro psychedelic effect. Great to project onto a wall or onto the dance floor, this piece is a great mood setter!
BOB: This light is on fire! Actually it looks like it. This simulated fire effect creates the mood for many themed parties and can be used virtually anywhere.
Beacon: This large 10" yellow beacon rotates two bright beams of light across the room. This light is guaranteed to catch your attention!
Black Lights: We have a few black lights to make the party shine. Actually, it'll glow! We have 18" black lights and 24" black lights and can be placed anywhere! A classic favorite for all!

Disco Ball: Available in 12" and 18"diameters. One or two pin spots are included and different colored lenses can match the color scheme of any occasion.

Fog Machine: What event would be complete without fog? We have 8 machines of varying sizes, depending on the need of the event.
Bubble Machine: This is really fun to have! Kids young and old get excited for bubbles! We recommend this feature for outdoor use and certain indoor occasions.
Projectors & TVs: We have a few projectors and TVs of various sizes to up the excitement at any party!!! Music videos, visual effects and more will blow your party guests away!!! These are also used for slide shows and other applications.

Par Cans: We have a great selection of par cans! With over 60 cans from Par 30 to Par 64 sizes, we have a par can for every application! From stage lighting, up-lighting, accent lighting, truss lights and more, we have many sizes and brightness outputs. Best of all, we have both bulb and LED par cans, so the color and application options are realistically... endless!